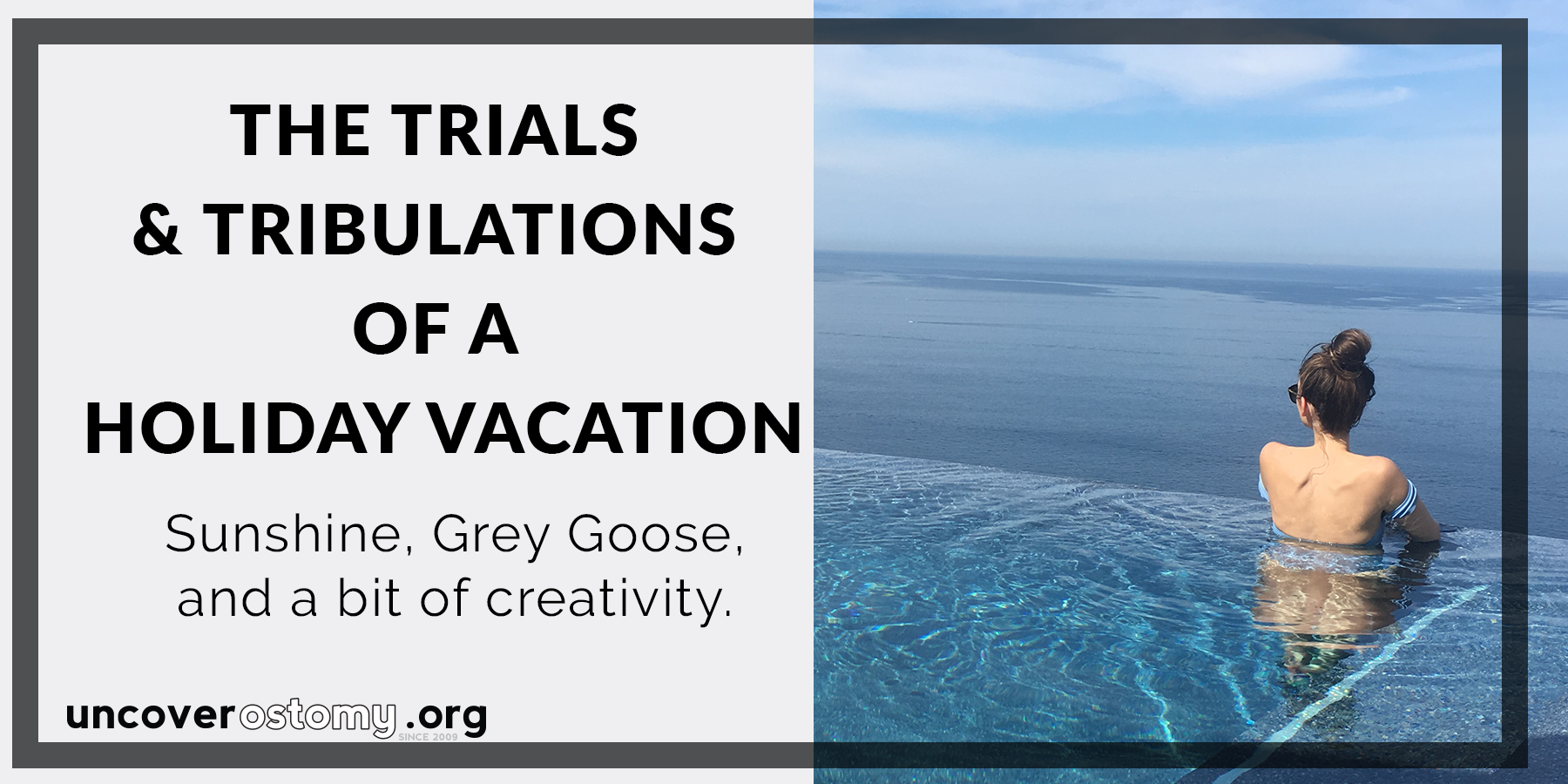 28 Dec

The Trials & Tribulations of a Holiday Vacation

A few days ago, like many messages we get at UO, I received an email from someone facing surgery, worried that her life was going to be over once she got an ostomy:

I responded, as I always do, ensuring her that whoever told her those things was 1000000% wrong, about everything, including the part about travel.
While I am not someone who prefers (or would ever want) to travel to "remote areas in the world," I am someone who has travelled quite a bit. From backpacking across Europe, to visiting family in Israel, commuting back and forth from New York to Toronto, or taking trips to sunny resorts, I have made it around and back home again in one piece!
My husband and I are fortunate, (and work damn hard enough), that we can treat ourselves to nice vacations. We actually just got back from our 2017 winter trip to the beautiful Hotel Mousai in Puerto Vallarta, Mexico.
Since I'm an ostomy veteran of over 15 years, I know how to prepare for a trip far away from home: I always pack my ostomy supplies in my carry-on, (and I'm always prepared to flash my bag if I ever get questioned about bringing scissors on a plane!), I always bring 5-8x the number of supplies I might need (cause you never know…), and I always bring an extra change of clothes for the flight (though, everyone who travels should do this!)
While I am always extra prepared when it comes to caring for an ostomy, I am not always prepared for dealing with the rest of my body. 
And boy is there a lot to deal with.
Most people with ostomies know that our bodies can be unpredictable at the best of times. Those of us with Crohn's Disease? We know this, too. Throw in a foreign destination, a different climate, and unique food options, and you never quite know what you're in for.
However, not being one to let my medical history get in the way of doing what I want, my husband and I set off for a well-deserved vacation while I kept my fingers crossed behind my back with the hope that I'd be just fine.
…Ok, Spoiler alert; I am fine.
I made it there and back without ending up in a mountain-side hospital being treated by a Spanish-speaking doctor… however, this trip? That option was on the table…
Every few months, I find myself dealing with skin issues thanks to the autoimmune part of my Crohn's Disease. While it usually resolves itself within a few days to a week or two, my most recent skin problems have not gone away. Better yet? They're on my face.
I tried to book an appointment with a dermatologist before we left, however, he could not see me until the new year. I wasn't going to cancel the trip and my skin had sort of calmed down, so I ignored it.
Surprise! It didn't want to be ignored.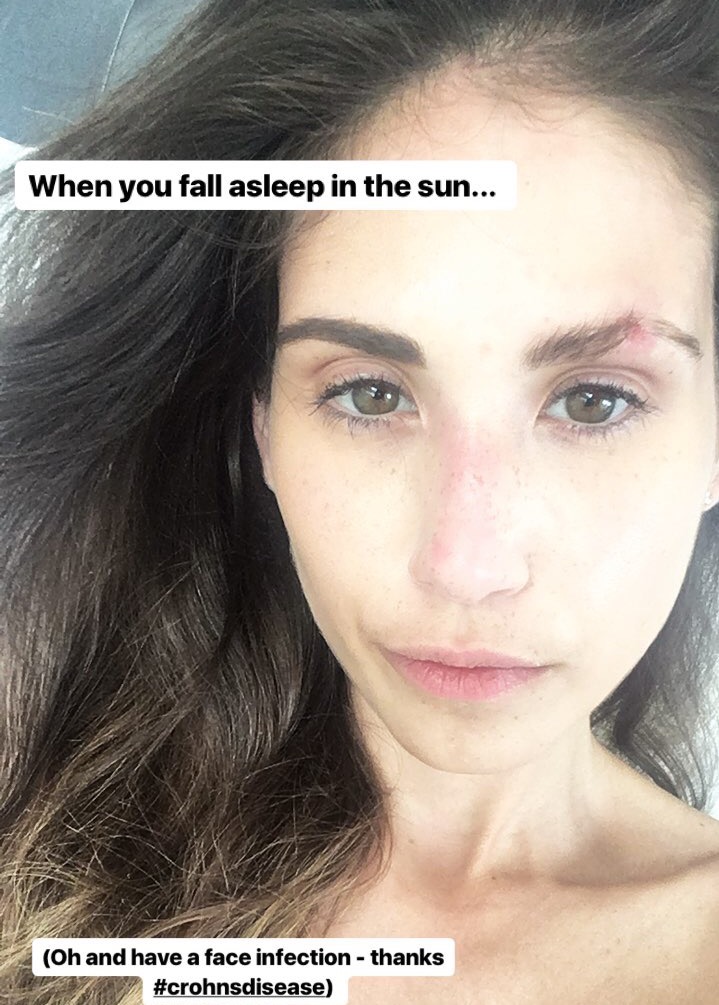 Within the first few days of our trip, the skin infection that perfectly sat under my eyebrow decided to flare up and I suddenly found myself looking like a 1-eyed goblin.
If you've ever had a skin infection, you know how awful they can make you feel. Not only are they completely visible (and embarrassing) to everyone around you, but they make your whole body feel, (what I believe is the technical term) "icky." The infection made me feel gross and it broke my confidence. I felt like a disfigured freak and wanted to hide in our room. Not exactly the vacay vibes I had been hoping for.
When an infection flares up, I always diligently disinfect it with rubbing alcohol and cover it with bandages to help it heal. However, despite being overly prepared for any possible ostomy issue, I had not been as vigilant with any of the other problems my body could throw at me. I did not have what I would normally work with, so, instead, while hibernating in our room from embarrassment, I got… creative.
There I was, in the bathroom of our resort room with cotton swabs I had stolen from the spa and a bottle taken from our all-inclusive mini fridge… rubbing my face with Grey. Goose. Vodka. 
LOL.
Ok, so eventually the staff brought me real rubbing alcohol for the area, but I still spent the rest of the trip with a giant wound on my face. Beautiful 🙄.
"Oh, Jessica, that's not too bad – at least your stomach was ok!" You may be thinking to yourself.
HA. Of course my stomach wasn't ok. 
As a vegan (for health reasons) with stomach issues, it's hard enough for me to find food to eat outside of my house in my own city, let alone to find food on vacation! At home, I'm often satisfied with tofu and peanut butter (not together!) because it fills me up and is easy to digest. I also try not to eat too much, because of the kink I happen to have in my intestine makes processing food a little difficult.
Now, this resort, unlike any other we have been to, had top rated chefs and a wide range of ingredients at their disposal, so I was extremely fortunate that they were able to whip together tons of food that I could actually eat! Some days I got grilled tofu in tortillas with guacamole, other days I got vegan banana pancakes, and every morning, I got fresh, homemade, peanut butter!
The chefs seemed to enjoy making new and creative dishes so much that I consistently found myself with… dare I say… too much food.
Since it was a rare occurrence to have so much food that I could actually eat, and the feeling of slight guilt that these chefs had made so much specically for me, I ate a lot… well, I ate way more than I should have. (To be fair, so did my husband!)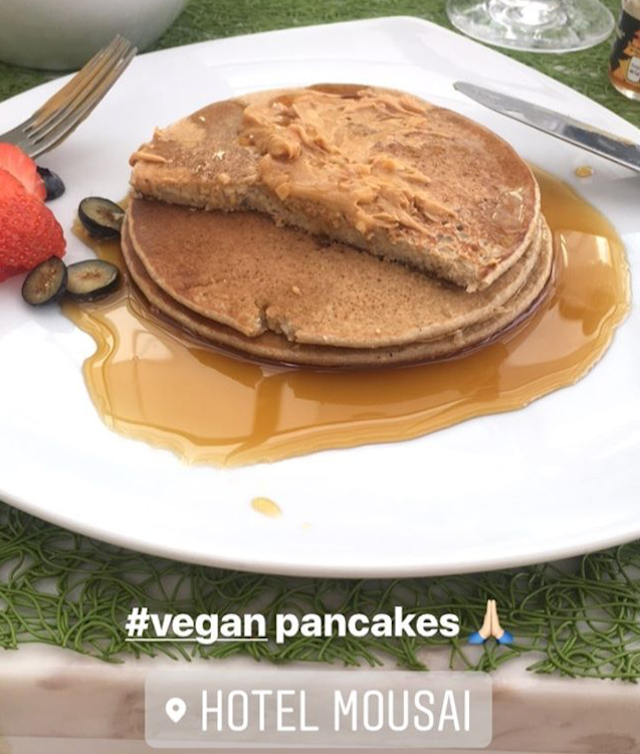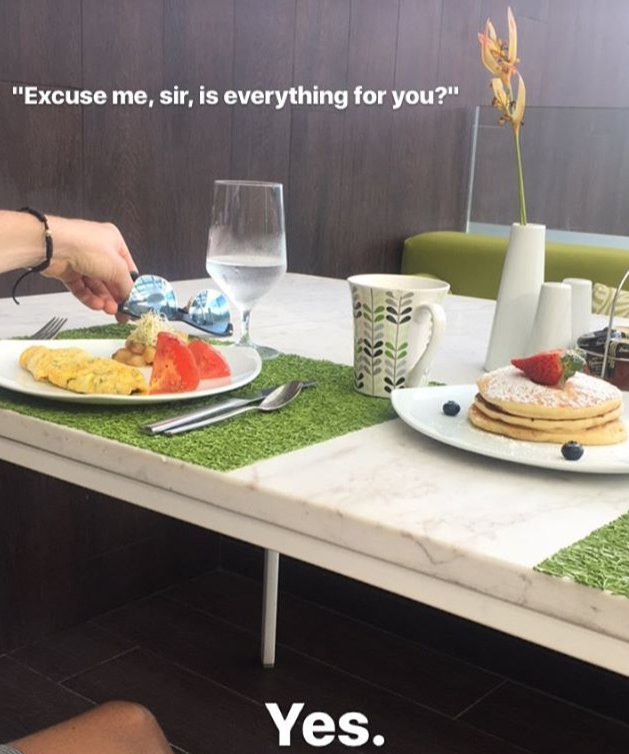 The sheer volume of food coupled with the richness of it all, surprise, surprise, did not agree with me. Within the first day and a half of the trip, my stomach was bloated and uncomfortable, and things were… not functioning as they should have (if you know what I mean!)
Ok, so, yes, I should have known better, paced myself, and learned to say no… but can't a girl just eat?! Sometimes a girl just wants to eat, ok?
Now you might be thinking to yourself:
"Jessica, you went on an awesome vacation and you're complaining about a big pimple and a stomach ache, expecting us to care?"
Well, you are right. I am complaining about a big pimple and a stomach ache. 
That's because I want to you realize that these were the worst things that happened to me on a vacation in another country! 
Yes I have an ostomy, and yes I have Crohn's Disease, and yes they can both be pains in my non-functional butt, but they do not stop me from going out and enjoying an all-inclusive vacation that I have spent months working my non-functional butt off to go on. 
When you're a person with a chronic illness and have a medical device that you can't live without, there are always going to be things that don't function quite right. However, that should never stop you from going out and enjoying life the way you want to live it. Sure, sometimes you have to be overly prepared, or other times you may just have to get a bit creative, but at the end of the day, you can still do them. You are alive and you are (maybe relatively) healthy, so why not enjoy it?
Yesterday, I was supposed to host a big family Christmas dinner for my family and in-laws. Yesterday, however, I did not host the big family dinner. Why? My in-laws came down with the flu and could not make it into town.
So while I may have to deal with unique medical problems unlike those that others may have to deal with, at the end of the day, we're all humans and we all risk getting sick. So why not just live your life the way you want to live?
Turns out, I'm healthier than my in-laws!
Hoping you've all had a wonderful and healthy holiday season and sending lots of love to you for 2018! 💕