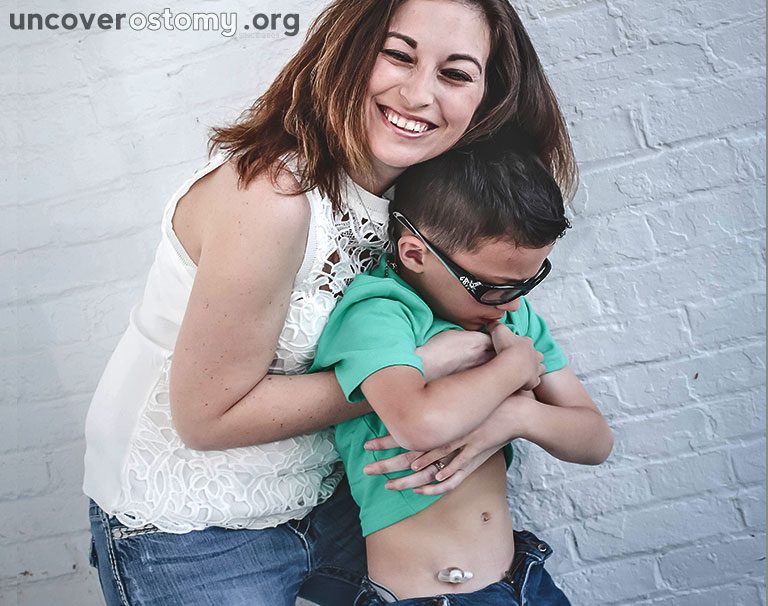 26 Oct

#MyOstomyStory – Susan, a Wife and Mother for Ostomy Awareness

Is it possible to have an ostomy story and not have an ostomy?

Despite not having an ostomy myself, #MyOstomyStory actually started years ago.

I had been dating this guy for about 3 months and it had been going really well. I had been in bad relationships with men in the past, as a divorced, single-mom of a wonderful daughter, so I was happy that this one was going really well. That's why I almost had a panic attack when the guy called me and told me to come over because "we had to talk."

The whole way to his house, I was flipping through possibilities in my head.

What the heck have you done, Susan? Things were going well, weren't they?

So as I am wondering all these crazy thoughts in my head, he looks at me with the most terrified look I've ever seen. This man who I've been dating and who I could see a real future with looks me dead in the eye, lifts his shirt, and said "this is my bag." He did not have a bladder due to childhood kidney damage and Stage 2 Kidney Disease. 

After a few moments, I looked at him and said, "so what did you want to talk about?"

That was the day J., my husband of 11 years, shared his ostomy story with me. 

I was relieved, that day, to know that I hadn't done anything wrong and that we weren't breaking up, but I was also so happy that he chose to share this with me. He didn't have a bladder so he needed to pee in a pouch. It has to go somewhere, right? It didn't bother me, especially since I, myself, have health issues. But I also didn't really know anything about ostomies and I didn't know why he was so nervous to tell me about it. 

I decided to do some research, not just for medical information, but to learn more about how people with ostomies feel. It turns out, J. was not the only one who felt nervous about opening up. I felt awful, not just for him, but for everyone who was in the same situation. After all, the surgery saved his life, and saved the lives of others – why would anyone want to hide it?

As time went on, I asked J. more questions and learned more about his thoughts and feelings towards the surgery and I realized that he, as well as others, felt that the ostomy was not anywhere near as socially acceptable as I thought it was. To me, it was nothing, but at the time, I was few and far between. 

It was after that night, when he opened up to me, that everything and nothing changed all at once. I decided to take it upon myself to spread positive ostomy awareness and made sure J. knew that I had his back.

It wasn't until many years later that the same fear and anxiety J. had about sharing his Urostomy story came back when our son Noah was born. 

Noah was born with many health issues, one after another, diagnosis after diagnosis and constant hospital stays.

Noah ended up being diagnosed with Colonic Dysmotility and was given a Cecostomy. This was an extremely hard day, not just for me as a mother having to send my child to an operating room, but on J., who felt extreme guilt. He had always said that having a child with an ostomy was his worst nightmare and his nightmare had come true.

I could see the thoughts spinning through J.'s mind – how would Noah manage an ostomy as a child? Would he go through the same struggles? Would he be healthy?

It was painful to watch but I had to stay strong for the family.

During this time, I did more research and found Uncover Ostomy and I can't tell you how happy I was to find Jessica! As a family, we looked through Jessica's pictures and talked about her journey and used her as an example of how to be proud of ostomy surgery. 

Thankfully, Noah has grown into an amazing little boy. While he is still struggling with health issues and constant hospital stays, he finds the strength to talk to other children who have or are getting ostomies while I talk to their parents.Together, we make a great team!

So, while I don't have an ostomy, the ostomy is a huge part of my life. I have made it my mission, as has Noah, to continue to support and empower others in similar situations. I cannot tell you how much it means to me that Jessica saw my passion and has given me the chance to be a part of her hard work with Uncover Ostomy – I can honestly tell the world it is a dream come true!

I look forward to sharing more of my journey, Noah's journey, and the journey of my family to inspire you, empower you, and keep you smiling.