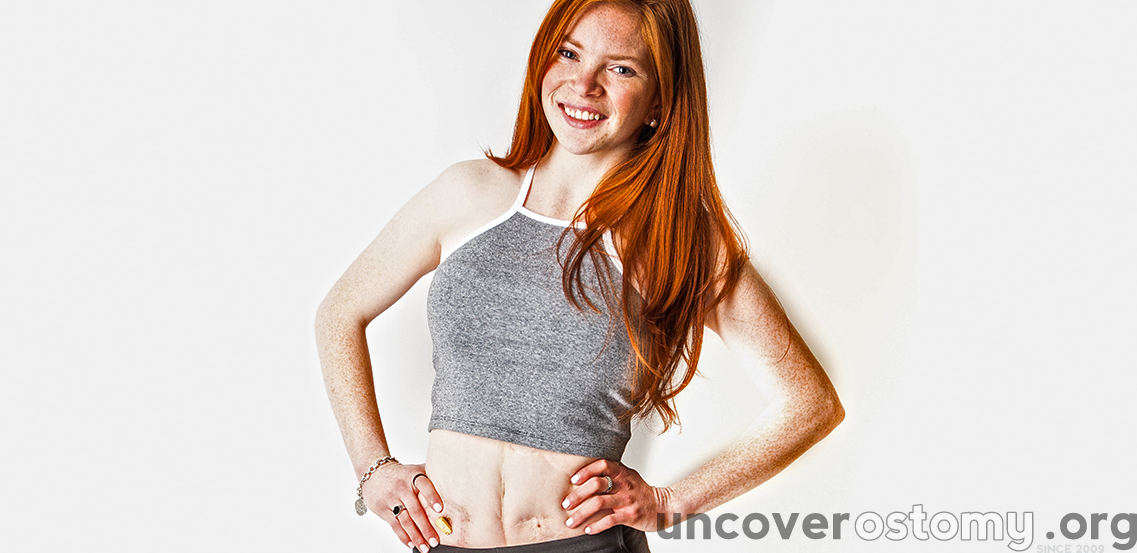 06 Oct

#MyOstomyStory – Hi, I'm Kaitlyn!

52 surgeries & 6 ostomies. That's me.

Just moments following my birth, the nurses realized I had an imperforated anus, which meant that the opening was missing. I was immediately rushed to SickKids hospital in Toronto and, during my first few days there (and first few days of life,) I was given a colostomy bag.

Over the next several months, I underwent numerous surgeries to combat the complications of my birth. One of the surgeries was to treat "Fundoplication," which was where the upper curve of my stomach was wrapped around my esophagus. I was given a Gastrostomy, a feeding tube which was placed through the abdominal skin and went directly into the stomach wall, so that I could get proper nutrition.

By the time I turned 1, I was diagnosed with a rare disease called VACTERL Syndrome. Each letter stands for a birth abnormality that I had already faced, or would be facing as I grew:
Vertebral
Anal atresia
Cardiac defect
Tracheal-Esophageal
Renal
Limbs
After more surgeries, my colostomy was reversed with the creation of an opening in my anus. This was great news for one part of my body, but, unfortunately, another part wasn't working so well.   My kidneys and bladder became troublesome and a temporary urostomy was put in place.
To make my daily life more manageable, I was also given a Mitroffanoff – a passage way from the abdominal wall to the bladder created with the appendix. However, after a while, complications arose and the Mitroffanoff ceased to function, so my urostomy became my main source of urine output. While having another urostomy wasn't the best case scenario, this gave my body time to heal from all the trauma I had been through thus far.
I had my urostomy in place for many years, but eventually, a new channel way was created for me to empty my bladder. Slightly different from the Mitroffanoff, this passage way was made out of my bowels, and was called a Monti. Once my Monti was fully functional, the urostomy was removed.
So we finally got my bladder system in check, but there were still issues with my bowels that needed to be resolved due to my imperforated anus. At the age of 7, I was given a cecostomy, where a tube placed in the abdominal wall that goes into the cecum and is used to flush out the intestines. This is currently how I manage my bowels.
Only a few years ago, when I was 16, my Gastrostomy was removed, as feeding and medication absorption started to become normal. Well, as normal as they could be!
It's been a long journey, to say the least.
At this point in my life, at only 20 years old, I've had at least 1, 2, or 3 ostomies at any given time. You could say I'm a bit of an ostomy expert!
While my life has been full of hospitals, doctors, medical supplies, and surgeries, I thank the doctors and health professionals every day for giving me a chance at life. Without their skills and knowledge, I would not be here today.
I also thank my parents every day for, not only always being by my side, but also for helping me live my life to fullest! They have allowed me to play soccer, take dance classes and to just be a kid. Their support has also allowed me to follow my passions, as I study Health Studies at York University. I don't know where I'd be without them.
Although I've "grown up" with my ostomies, I still have an untold future. Where my life will go next, I don't know. What I do know, though, is that I am so excited to be here on Uncover Ostomy, sharing #MyOstomyStory with you!
There will be lots more of me to come!
Oh, and yes, I've had 52 surgeries and 6 ostomies: a colostomy, gastrostomy, Mitrofanoff, urostomy, cecostomy, and a Monti! At this current moment? I'm just rocking my cecostomy and Monti 😝