31 Jul

If You Can Do Anything With an Ostomy, How Do You Change the World?

A few weeks ago I contemplated writing a blog. I was sad and disappointed in myself and I had this overwhelming urge to apologize to you all.

After thinking about it over and over again… I felt it might have just been better left unsaid. And unsaid it went.

But here we are and here I am writing about this very thing. I am writing about it because I'm no longer just sad and disappointed in myself, but angry and frustrated at the society we live in.

Beware, there might be some swearing and there might be some harsh statements. There may also be some things you don't agree with. And, as always, that's fine. But what you're about to read comes straight from my broken heart.

It began the week that we're all quite aware of – when "ostomy" became the word on everyone's mind. When that girl from the UK with an ostomy came out about wanting to be a model.

I saw an early article about this woman. I thought it was great to see some traction in the ostomy space and was happy to see it. I even kind of laughed at her storyline about how she wanted to be a model, because, well, I've made it very obvious that having an ostomy doesn't stop you from professional modelling.

At least, I thought I had.

It was the following few weeks, when her story started going viral, that I was on the receiving end of hundreds of notifications. I was bombarded with Facebook messages from Facebook "friends" – people I knew well, people I hadn't spoken to in years, people who knew me through other people… who were messaging me to tell me about this girl and share one of the hundreds of articles about her.

At first, I thought it was nice that these random people remembered about me and my ostomy and that they were thinking of me. However, that quickly faded as I began to see just how into this viral story these "friends" of mine were.

These people were not only sharing the article with me, but were sharing these articles with everyone in their social networks. These "friends" were sharing the articles written about this girl, and just in awe about how amazing her story was. These "friends" thought she stood for something.

A story about a woman who had an ostomy and wanted to overcome it to become a model. That was her story.

And they loved it.

What the fucking fuck.

Not a single one of these "friends" had ever once shared any of the plethora of inspiring stories/pictures that many of you have shared on the Uncover Ostomy Facebook page.

Not once had any of these people shared a blog post I had written, highlighting how the ostomy has never gotten in they way of doing anything, including professional modelling.

Not once had these people even shared an article written by a national publication highlighting our efforts.

Not. Fucking. Once.

But here's this girl, just showing off her bag, wanting to be a model. And they're sharing it.

They're loving everything about it.

"Hey, isn't this what you do? She's amazing" (It is… but like… what?)

"Hey, have you seen this girl? They're definitely just writing about her because she's pretty" (Ummmm thanks?)

"Hey, you know that girl in the news made me think about the ostomy so can I ask you a question?" (REALLY. Like, THIS girl makes you want to ask about the ostomy, but our community of over 6,000 people doesn't make you curious!?)

I even had another person tell me Uncover Ostomy didn't have any shareworthy content.

Nothing anyone would ever want to share.

Not.


Anything.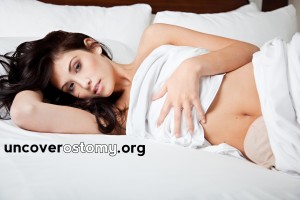 It was literally boggling my mind that this one girl was getting all of this attention. Actually, it wasn't just making me question what I was doing, but it made others question it, as well.

Yes.
Uncover Ostomy is reaching its five year mark.
And in one week, this girl accomplished everything I had spent every minute of my free time trying to get us to accomplish, together.
And then it hit me.
This sense of failure. It literally clouded my entire life for over 3 weeks.
I started to feel sick. I was depressed. I couldn't focus. I cried.
I don't cry.
I started Uncover Ostomy to get the public to see the ostomy for what it is – an amazing, life changing, gift. 
And after 5 years of spending my time writing, networking, promoting, urging you all to join me and share, and all of you doing just that – some girl comes out of the woodwork just with the hope of becoming a model and the world thinks that this is so fucking amazing.
You want to be a model? So do hundreds of thousands of other women and men out there.
You want to change the world?
Cause we do. 
While the ache of failure radiated through my bones, I knew I couldn't sit by the sidelines. So I started to reach out to publications that had mentioned this girl and to give them the cause that had been missing from the story. To give them our story.
Thanks to some amazing publications, we got a bit of press – some really good press. (By the way, thank you to all those who shared the pictures that made it into this article!)
But I was still getting a lot of "no's."
I had been used to the "no's" from the media. When we started UO, we were often rejected because the ostomy wasn't glamorous enough – even though Uncover Ostomy was meant to change that. It didn't matter – it was still too taboo.
So, finally, this girl opens up the conversation and I try and swoop in and let them know about the goal we've been trying to reach for almost 5 years, and most journalists just came back to me with more "no's."
They said they had hit their ostomy "quota" and that there really wasn't anything left to write about. (Apparently, attaching an actual cause is not a good addition to an already buzzing story).
Defeated, at least I understood their reasoning. I got it. That made sense. Too much of the same content. Ok.
Until today.
Today, there has been another influx of ostomy related content focused on an individual being a model.
Except for the fact that the publication writing about this? One of the exact ones where I was told "there was too much ostomy content."
They had our website, they had our Facebook page, they had my contact info, and they had our pictures.
And they fucking ignored it all.
I'm furious.
For almost 5 years now, we have come together to build an amazing place full of support, courage, and hope. An online community where, together, we are working to change the negative stigma surrounding the ostomy. We have a goal. A cause. A mission.
But society doesn't care.
So, here I am, sitting, writing, fuming, livid. Feelings of failure wafting back over me, tears streaming down my face.
Selfishly, I feel like I've waisted the past 5 years of my life.
Overwhelmingly, I feel like I've failed you all.
Angrily, I contemplate how our society prefers one girl's dream to be a model, over our dream to change the world.
Here I sit.
Not knowing what to do next.
I know I want to change the world, I just no longer know how.
—————-
And yes, you can be a model with an ostomy.
You can do anything.