03 Sep

What's Good About 24?

So today I turn 24.

The big two-four.

The exciting twenty-plus-four.

The life-changing-not-quite-twenty-five-but-almost-a-quarter-of-a-century-old, twenty-four.

24.

I've never been 24, but from what I can tell, it isn't that great.

So, being the always-knowledge-seeking individual that I am, I wanted to do a bit of research on what I could expect to experience in this new stage of my life. I mean, at 13, I "became a woman" according to Jewish tradition, at 18 I was able to vote and buy lottery tickets, at 19 I was able to drink, and at 21, I was able to drink in the US. 22 was exciting for me because I moved to NYC for grad school at NYU, and 23 was exciting for me because it was my first time legitimately joining the workforce.

So what's left?

Well, apparently, this: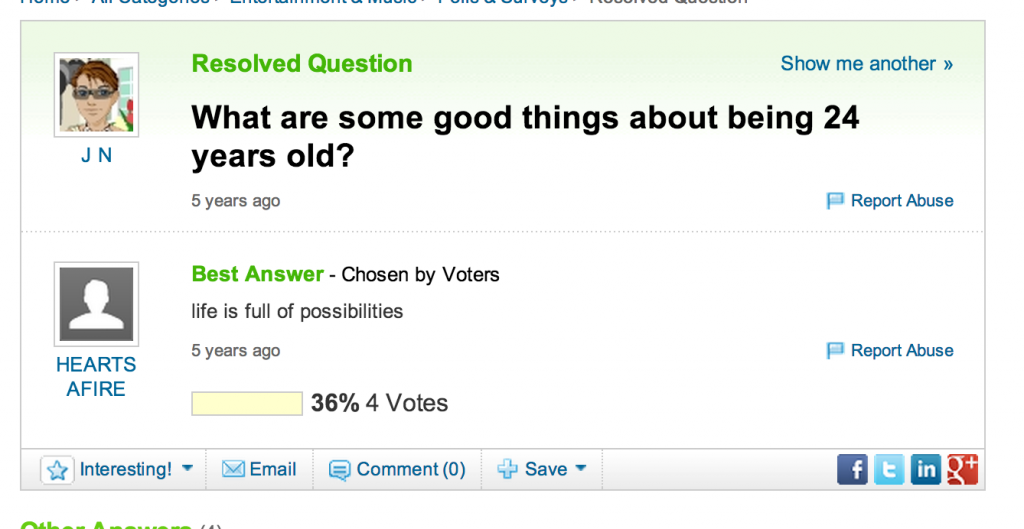 …
Greaaaaat.
Now don't get me wrong – this isn't going to be another one of my "woe is me, my birthday sucks" type blog posts that I've had in the past. I mean, I'm still not a huge fan of my birthday, (mostly because of the timing), but this year, I've decided to look on the brighter side of things. After all, I've had a pretty great year as a 23 year-old; getting an awesome new job, buying my own home, finding an amazing boyfriend, and beating my Crohn's (again!) – so I really can't complain.
But what's next?
Like… what is actually supposed to happen at 24? Do I get any tax breaks I can look forward to? Do I get special discounts at the grocery store? Will anyone respect me more as a 24 year-old? I'm pretty sure the answer is no.
So really, what do 24 year-olds get to look forward to?
Well, according to my Facebook newsfeed…. all of this:
Engagements
Weddings
Babies
(Ok, not entirely true… Some of them are so freakin' cute.)
Home improvement shopping
Going to bed before 11pm
To be completely honest (as I always am), 24 is actually scaring me.
Do I want engagements and weddings and babies and home improvements and a full night's rest? I mean, I guess I do? Eventually… but seeing this stuff happening all around me is almost surreal. I don't feel even close to old enough for any of this to happen to my friends, let alone myself!
But it's happening.
Everywhere.
And I just have to take it.
I have no idea what's going to happen in my 24th year, and apparently, the possibilities are endless.
But for now, I do know one thing:
And I'm going to enjoy it.