31 May

I'm Alive

I find myself saying this a lot, lately.

"How are you?"

"I'm alive."

"How are you feeling?"

"Eh, I'm alive."

"What's new?"

"Oh you know, I'm alive."

I find myself saying this a lot because it has become  the mindset I've embraced since the recent news that my Crohn's disease is back. Any chronic disease, whether Crohn's or anything else,  has the ability to completely control a patients life. After being one of those patients in the past, I am making sure that, this time, I am doing everything in my power to live life as if I was, well… normal.

Since my "re-diagnosis," as I'm calling it, I have actually been very lucky. The disease itself actually hasn't really been much of a struggle. I have been carefully watching what I eat and have not been ingesting anything that could upset my stomach. While it's been a boring few weeks for my tastebuds, the pain-free days are worth it.

What I have been experiencing, however, are the awful side effects from medication.

Not only have I still been dealing with random bouts of nausea, a lack of appetite, skin lesions, and slight weight-gain, I actually had quite a ridiculous health debacle last week.

For those of you who follow me on Twitter or my personal Facebook profile, you've already seen this picture: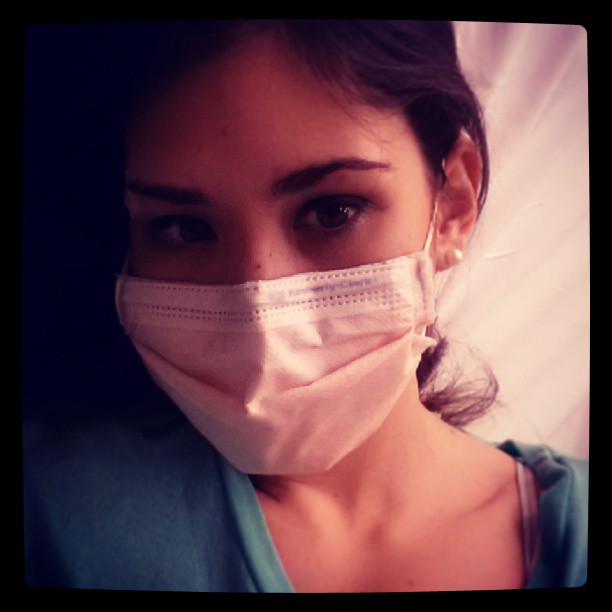 For those of you who don't, this was me, in the Mount Sinai Hospital emergency room last week.
I ended up in emergency because I woke up with an insane amount of pain in my right wrist and a locked jaw.
What?
It turns out, my body was not a fan of my first Remicade treatment (the $8k a dose drug), that I had had the week prior, and my joints had randomly become inflamed. I could barely talk and I couldn't use my right hand for much of anything.
Usually, something like this doesn't phase me.  Yeah, it sucks, but it's just "one of those things," I usually think. I mope a little, I wear PJs all day, and I wait for it to be over.
But not this time.
Of course, this time -the time my body reacts in the most ridiculous way possible – was the same day I had an audition for a lead role in a small movie.
That the casting director had specifically requested I audition for.
F.M.L.
So I'm sitting in the emergency waiting room at 10am, with my audition at 3:45pm, not only unable to hold my purse with my right arm, but unable to speak without wanting to burst into tears from the pain.
Of course, the day I have this audition is the day I can't talk.
Not knowing how fast I'd be seen, or if they could even do anything for me, I sat down and frantically re-memorized my lines, counting down the minutes until they would call me in.
By 11am, I was admitted and told to wait.
I waited. And waited.
And watched the clock.
And memorized and memorized. (And teared up a bit from the pain). And memorized.
By 2pm, I was seen… but was not given the immediate solution I had hoped for. Instead, I was given a prescription for steriods (ugh) and was told it should work within the next day.
Great.
With no choice, I left the emergency room and ran to my audition, wrist still in pain and unable to smile without crying.
Not knowing what I could do to not look like a crazy person in front of the casting director and the rest of the large group in the room, I decided to take the situation and play it up. I flashed my wrist that still had my hospital bracelet on it (the left one, obviously), told them I had just sprinted from the hospital, and promised them that I wasn't some botox crazed freak and that my face did, in fact, display emotion.
They laughed.
I sighed in relief.
…before I cringed, cause it hurt like hell.
Then I said my lines.
And I left.
I got home that night, not sure what to expect. Not sure what to expect from the audition, but also not sure what to expect from my body.
Turns out, my body wasn't such a fan of me. That night, my hips and knees all locked, my shoulders got extremely stiff, and I had to have a friend come over to take care of me because I couldn't move.
Turns out, the casting director was a fan of me. I just found out I got a callback.
Dealing with symptoms, be it from the Crohn's or from the medication, is something I know I have to deal with. While I may never be sure in what form they will appear, I am sure that they will never be strong enough to keep me down.
Even if I have to get my friend to carry me to that callback.