14 Feb

I Have A New Appreciation For Mail

If I remember correctly, I think I have sent a total of 5 letters in the mail over the past 5 years.

I mean, barring letters to friends at summer camp, I have not really sent any physical mail in quite some time. I basically do everything through the internet, online banking, or email. I don't even think I own any envelopes. I know I definitely do not own any stamps.

The internet has just made life so wonderfully convenient, and I bet most of you would agree.

Yet- mail still exists.

Tonight, (well, when I started writing this it was tonight- the 13th- so go with it) while I was on my way to class, I checked the mail as I do every day in case of a bill. After I check for any bills, I always check the package delivery list that my building puts on the bulletin board that lists those who have received a package. I checked the package list today because, this weekend, I had ordered some clothes and shoes online and was already anxious to get them. I knew it would be ridiculous for me to assume my clothing had arrived already, but I decided to check anyways.

Sure enough, my name was on the list.

"My new shoes/shirts/dresses came already? Today is definitely my day."

As you know, I had a procedure done this past Friday and the recovery/medication I've been on has kind of put me in a gross/pathetic mood. Hence the need for online shopping. I needed some retail therapy but was definitely not up to having a shopping adventure around NYC. Thank you, internet.

Unfortunately, no matter how amazing the invention of online shopping is, online does not account for everything.

Like delivering packages.

So, I excitedly knocked on the door of the building office to get my package and was greeted by one of the building employees. I asked for my package and he left to retrieve it.

He then came back to me with these teeny little package.

"That's weird-I didn't think it would be so small."

"Good things come in small packages, Miss Grossman" he said.

Cliché, but cute.

Maybe the company I had ordered from this weekend sent me a notice to say the items I had ordered were on backorder?

Puzzled, I put the package in my bag and walked to class; I thought I was running a little late.

I arrived to my class with time to spare as a guest lecturer was in the midst of setting up his presentation equipment. I figured I'd open the package.

I reached into my giant purse, grabbed two ends of the package, and tore a corner of it open while still inside my bag.

I didn't want to make a scene.

I ripped it a little bit more.

And then. I saw.

White satin.

A ribbon.

Tiffany blue.

A scene was had.

There really are some things that the internet just can't do.

Like send secret surprise Valentine's Day Presents.

Sure enough, my amazing boyfriend had sent me a necklace from Tiffany's for Valentine's day. I just had to whip it out onto my desk to take a good look. This is the wonderful surprise I had received.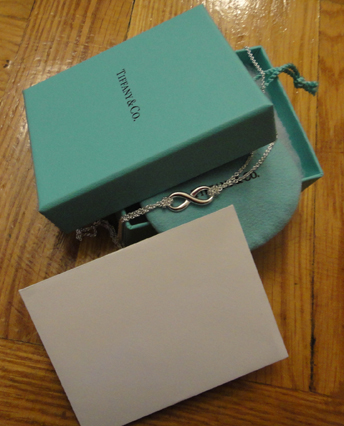 Being here in NYC while my boyfriend is in Toronto had left forced us apart for this holiday. I have a flight booked to see him this weekend, so we had decided to do Valentine's day on my return.
He decided to go a step further and send me this so I received it right on time.
This is by far the sweetest surprise I have ever gotten in the mail. Or ever.
[Good thing I planned a surprise for him tomorrow… (I can't say it- but he's getting one to 🙂 ]
Anyways, after opening the package and seeing its contents, I was left with an obnoxiously large smile plastered on my face. I sat through my entire class like this, front row, staring at the lecturer. I can almost guarantee that he either thought I was crazy or flirting with him.
I was just over the moon.
I still am.
Hello moon- I am over you.
I love surprises.
And I love mail.
As I finish writing this post, it is now February 14th. The day to celebrate love. Whether you are celebrating with a partner, or a single who is celebrating it with those who you hold dear-enjoy it.
Or, if you're like I used to be, use it as an excuse to eat your weight in chocolate and watch sappy movies.
Whatever you choose to do, I wish you a Happy Valentine's Day.
Or as my wonderful boyfriend so eloquently put it: