08 May

Seriously, They Don't 'Effing Matter.

Earlier this afternoon I was walking along Bay St., here in Toronto, after speaking to a group about Uncover Ostomy. I was wearing my "This is where my ostomy is" tshirt without a jacket, since it was a nice 18 degrees Celsius outside. As I walked past a small group of picketers, I got called over:

"Hey! What does your shirt say?" 

Obviously, I stopped to explain.

Two members of the group seemed quite interested in what I had to say, while another joined in mid-way through my explanation. This guy asked me if I been on TV because he had remembered seeing me. (Yes, I had been and you can click if you haven't seen it yet). After I finished my explanation, I walked cheerily away, happy to know I had spread some more ostomy awareness.

Lo and behold, I received a message from the UO contact form a few hours later reading:

I spent 5 minutes explaining to this guy and a group of his comrades that I shit in a bag (and showed it to them), yet he still managed to check out my website and fill out the contact form just to hit on me.
(Don't worry, I responded with a gracious reply, thanking him for checking out the website.)
I often get asked if I've ever had a problem dating with an ostomy. Have I been turned down because of it? Have I been broken up with because of it? Have I had a hard time finding a guy at all because of it? The honest answer is no.
Well… the real honest answer is that it took me 5 years after ostomy surgery to actually be able to date since beforehand, I weighed much more than I do now (thanks to steroids) and was extremely awkward and weird (thanks to being isolated in the hospital without social interaction for 2 years.)
But after 5 years of growing into my body and learning how to socialize, the ostomy never, ever, ever, got in the way of my dating life. Since those years, I've been asked out multiple times, dated around, and actually been in relationships with a solid number of guys. Having an ostomy had never once gotten in the way of forming relationships at all. In fact, I used to hope that it would be a filtering device to keep the jerks at bay… but apparently not.
Anyhow, I have had such luck in the dating scene with an ostomy that I began to wonder why. Over the years, I've just kind of figured it's been because I've always been so positive about it. I still wondered, though, how no guy has ever cared about my bag.
So I decided to do an experiment.
A lovely girlfriend of mine, new to the Toronto dating scene, decided to sign up for the free online dating site, OKCupid. She showed me how it worked and how she was getting some dates here and there simply from having her profile online.
I've always thought online dating was silly, but I thought this was the perfect opportunity to test how my ostomy would be received online. So, I signed up using my real name as my username, (which is apparently frowned upon but I clearly didn't care…), filled out my profile in a quick haste, and threw up some pictures.
I don't think I could have tried less.
And I did it on purpose.
When asked why I was on the site, I answered that I was there "for the laughs." When asked what the first thing people notice about me was, I said "I don't know, ask them." I also specified that guys should only message me if they had a degree and a professional career (lol) and when I was asked what the most private thing I was willing to admit was, I said "Everything. Nothing is private. Just Google me."
I basically put up a wall saying "hello, I'm a bitch" but used my pictures to intice them to Google me to come across the ostomy.
And they did.
In between the ridiculous messages from guys trying to be funny (like this guy)…

…or antagonistic to win over my attention, (like this guy)…

…or just trying to spark up a conversation (like this guy)…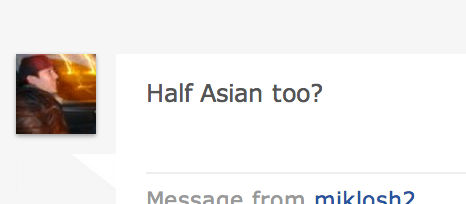 …I would get a ton of messages from guys saying that they had Googled me and thought that was I was doing was great!
Some said that they thought was I was doing was awesome, and then would ask for my number. Some would ask me more details about how I got my ostomy, and then ask for my number. Others simply sent a messages saying they had learned something new, hoping to spark up some conversation. I even had one guy remember me from an article in the Western Gazette some 2 years ago!

While I got messages from guys who had found out the ostomy and still wanted to explore something with me, there were a few guys who didn't want to actually date me. However, it apparently was not for the bag, but for "irreconcilable differences," (like this guy)

Despite having an extremely off-putting profile, guys still Googled me, and still asked me out.
Bag and all.
Now, I wouldn't feel comfortable with my Masters degree if I didn't point out the flaws in my study, which all academics must do. Unfortunately, there is one giant flaw.
What about the guys who Googled me and decided not to message me because they discovered the ostomy?
I wasn't able to track how many guys viewed my profile, looked me up, and decided against contacting me because they had discovered my bag. Because of that, I was unable to calculate my conversation rate.
But you know what?
Who cares?
All those guys that didn't message me on OKCupid are the same group of guys who I would never think twice to talk to in person.
And clearly, with proof from my experiment, there are enough guys out there who literally do not give a crap about the ostomy.
(badumbum)
I have since shut down my experiment because I am now in a new relationship with a wonderful guy. A guy who never thought twice about my bag, which he knew about before we even became a couple.
When I asked him why he was so accepting of it (obviously, because I had to know) he said it was not the attitude I have towards it, but the fact that I am confident in myself as a whole. He compared it to the same situation of women who are self-conscious about their weight. He said, if a woman is going to complain and feel badly about herself because of how much she weighs, a guy isn't going to want to date her. But if the same woman embraces her weight and is comfortable with who she is, her body size doesn't matter at all.
You hear that? An ostomy is just like anything else you might be self-conscious about; weight, height, hair colour, shoe size, breast or manboob size, anything.
An ostomy is just another thing on that list.
Another thing that you can choose to complain about, another thing to feel bad about, and another thing to get in the way of finding yourself a great boy or girl.
So, friends, the moral of this story is that we should all be comfortable in ourselves no matter what we think is wrong with us.
Because in the end, it doesn't 'effing matter.