11 Apr

Moooom – He's Bugging Me!

The pushing. The pinching. The fighting over the television.

Whether you were the one yelling out in anger or the one causing the frustration, you all know what I'm talking about; Growing up with a sibling.

For those who didn't catch wind – yesterday was National Sibling Day. A day to celebrate those younger or older brothers and sisters who not only made growing up a living nightmare, but who you always knew, no matter what, were there for you.

I wanted to take this opportunity to give a shout-out to my only sibling: the younger, now 21 year-old, business student, guitar-playing, sport-loving, philanthropic, fraternity president. The guy who has been there for me through the thick of it all, no matter how annoying I was. My amazing brother Jason, whom I love to death.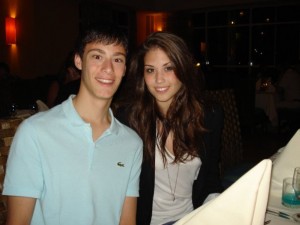 What's funny is that if you had asked me how I felt about my brother years ago my response would be very different. Between him always calling me names, fighting with me over who would choose what our mom made for dinner, to him coming into the living room to change the channel on the television, evennnn though I was watching a tv show we both liked…. if you had asked me years ago how I felt about my little brother, I would have told you I wanted to put him up for adoption.
Now, all these years later, we actually make a point to talk, hang out, and party together. Who would have thought?
I attribute most of this change to the fact that we no longer live together. I began to see a difference pretty much as soon as I moved out of the house to go to university. While he'd still bug me a little bit (out of habit, or tradition, I suppose), we generally began to enjoy each other's company on the weekends and during the summers that I'd be home. I was a tad worried that when he started at the same university that I went to, and when he joined a fraternity that my sorority hung out with, there would be some issues. Luckily, we just enjoyed spending even more time together. (Well that, and he enjoyed me driving him around the city.)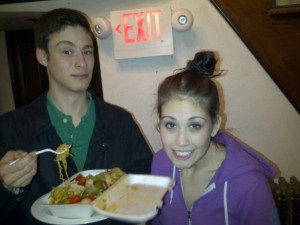 I think, however, that what solidified our newfound friendship the most was having to experience the loss of our father. It was heartbreaking for both of us, yet in very different ways. I can only imagine how much more difficult it had been for him, being only 17 and having to step-up and become the man of the house. He has done so with grace, dignity, and intelligence.
I have to say, though, that even when we were younger, and when I wanted to strangle him almost every day, the little guy could step up. When I was dealing with the extreme symptoms of Crohn's disease and basically not able to function, he was there taking care of me. Even though he just a little squirt, he was on top of my care by making sure the hot water bottle I needed for my pain was warm and that I drank those awful meal replacement shakes I had to have to keep my nutrition up. Jason really showed his strength when I'd be admitted to the hospital for weeks and months at a time and he'd have to stay home, only having one parent around because the other would be with me. He didn't complain. He didn't lash out. He was just there.
I can't believe I'm about to admit this, but I literally teared up as I wrote that last sentence.
I value family more than anything in the entire world, and I think that having Jason in my life is the reason why.
Love you, brother.