31 Jan

10 Year's Later, This is Where My Ostomy is. Where's Yours?

10 years ago today, I was suffering. 10 years ago today, I almost died. 10 years ago today, I underwent surgery.

January 31, 2013 – 10 years ago today – I was given my ostomy.

1 decade ago I was given a second chance at life.

Un-frikkin'-believable.

Despite today being a pretty awesomely exciting day for me, this blog post isn't about me. I'm not going to go into my story and how I got here, nor am I going to talk about how grateful I am to be alive. You all already know this.

Instead, today's blog post is about you.

Please watch.

Today I am launching the "Where's Your Ostomy" effort from Uncover Ostomy to push the envelope on how, together, we can raise positive ostomy awareness worldwide.

And I need your help!

You've already taken the first step by watching the video. Here are 4 simple things to do next:

1.SHARE the VIDEO! Please share the video above with ALL of your social networks, family networks, work networks- everything. Post it on Facebook, Tweet it on Twitter, Share on Pinterest and LinkedIn, email it to your contact lists, play it on a large screen tv in a Best Buy…. ANYTHING! Share this video with everyone you possibly can!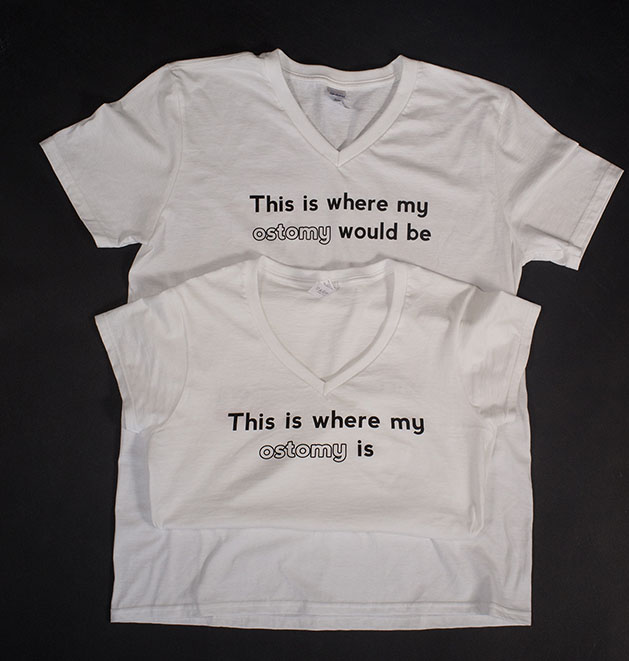 2. BUY the SHIRT! We are selling two tshirts with the help of the wonderful team at Teespring!
-For people with ostomies:  "This is where my ostomy is"
-For people without ostomies: "This is where my ostomy would be"
Teespring is a crowdfunding based selling platform. "Crowdfunding" is when a certain number of items need to be "reserved" for the order to be processed. Uncover Ostomy is selling shirts for the next 21 days with a minimum of 75 shirts/ostomates 100 shirts/non-ostomates. We need to sell at least 75/100, for the order to process. If you are confused about ordering, please see the Teespring FAQ, or comment or post on the UO pages and we can help!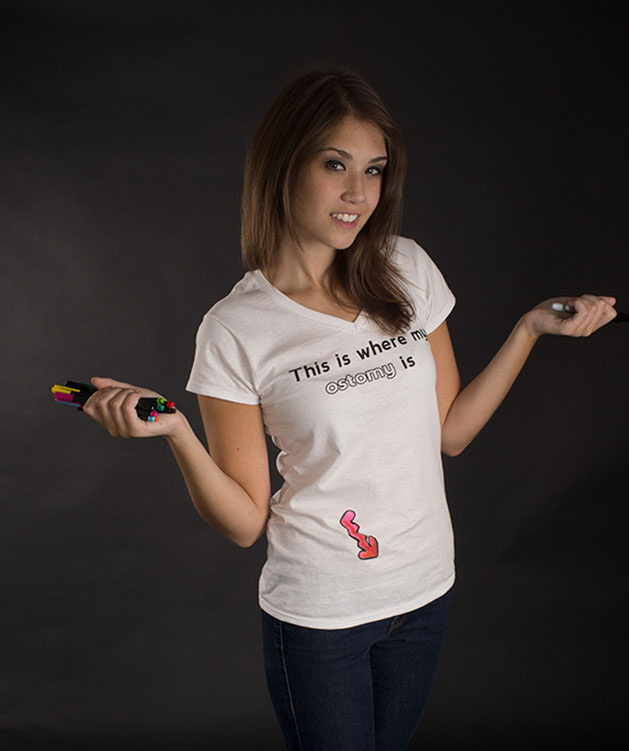 3. SHARE the SHIRT! The shirts will only be printed if we sell a minimum of 75 ostomate shirts and 100 non-ostomate shirts!
4. WEAR the SHIRT! If, after 21 days, we end up selling the minimum number of tshirts (and hopefully more!) and you get them in the mail (WITH a fabric pen included), we ask that you draw where your ostomy is, or where you would want your ostomy to be and whatever other fancy designs you'd like to add and then WEAR IT in public!
5. SNAP some PHOTOS! Once you've received your shirt and drawn alllll over it, we will be running a contest that involves both the shirt and pictures!… but those details are yet to come. Remember – that's only if we end up selling out those shirts. (So get sharing!)
Guys- this is it. This is our chance to change perceptions. To change negativity. To change minds.
Let's do this.
———————————–
All proceeds raised from sale of the tshirts will go towards ostomy education, awareness, and future Uncover Ostomy efforts through IDEAS.