22 Jul

Sigh. Still So Far to Go.

Instead of working on my thesis that's due in 3 weeks (ugh, don't even tell me- I know…) I decided to spend my night on Twitter trolling around to see what was being said about the ostomy.

I saw the usual tweets from product distribution companies and for job listings in the ostomy sector, and I also found a few tweets from people who were posting some positive things about their bags. However, my satisfaction in the conversation around the ostomy quickly faded as I came across this tweet from a guy:
Ladies, next time u're out and u wanna get rid of a guy, just show him your Ostomy.

GIANT SIGH.

It's times like these that I feel as if all of our efforts have gone to waste.

Does this guy not know I am currently in a loving relationship with a guy with whom I live with who sees my ostomy every day?

Ok, well, no he doesn't.But he should know that having an ostomy does not change who you are.

In fact, having an ostomy only changes how you go to the bathroom- something most girls tend to keep secret anyway! It's not like if I didn't have an ostomy I'd just be going to the bathroom with the door wide open for a guy to see. No! It's hidden behind a bathroom door just like everyone else!

Hello! Feminine air of mystery.

Now, I don't want to belittle all of our accomplishments so far, because as you all know by now, we have hit over 4,000 likes on the Facebook page, which is really freakin' awesome! However, the tweet by this clearly misguided individual is evidence that we have much more to do.

In my state of not doing my work, I also happened to take a peak at the UO Facebook page insights (the behind the scenes data on how the page is doing), and I came across this exciting piece of information: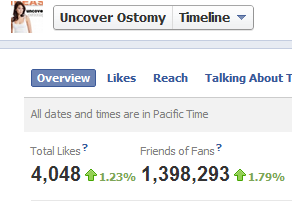 Do you know why I was so excited?
This piece of data shows that the total number of friends of all 4,048 people who like the FB page is 1,398,293 people. This means that if we were able to get all of our friends to join the Facebook page, we would have 1,402,341 likes!
…Ok, ok, I'm not crazy or anything and I am fully aware that there is no chance of getting all of everyone's friends to like the UO page. Heck, not even all of mine like it! (…jerks). What this means, though, is if every one of you, who likes the UO page, invites their entire friends list and even 1% of those people like the page, that's a huge increase in likes and, therefore, a huge increase in awareness!
So once again, I am making a plea to you to share Uncover Ostomy with your networks!
Now, why I am asking you at this very moment to get all of your friends to the FB page? Well, for those who have noticed over the past few days, I have posted some photo updates to the page that gives hints to the AWESOME things that UO has coming up. I have not, and will not tell you exactly what's to come, but over the next few weeks/few months (before World Ostomy Day), you'll be getting some more hints and sneak peaks at what we are going to be launching.
And it's going to be awesome.
In order for it to be as awesome as I anticipate, however, we need some more likes so the message can reach more people.
Now, unfortunately, Facebook has made some changes that don't seem to let you actually invite your friends to a page. Instead, it let's you share a link on your timeline to the page by clicking the little screw button on the top right corner of the page. It's not the greatest thing, but it'll do (I suppose..)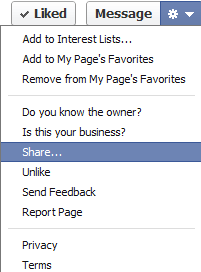 I would really appreciate it if you could take the time to share Uncover Ostomy on your timeline to your networks so that we can work to extend our UO community. Sharing the link on Twitter and other social media sites like Pinterest and LinkedIn are also appreciated!
It is obvious from the tweet posted above that we still have much to do in order to spread positive ostomy awareness to the public. I also know that what we have in the works for UO is going to help us spread this message even further. However, the only way this initiative can be truly successful is if I have your help.
Thanks guys!